COUNTRYSIDE ALLIANCE
Rundholz clothing stand out for their sculptural quality, unconventional cut, whimsical details, unusual materials and unexpected sources of inspiration......
Approaching
the cosy 200 year-old
farmhouse nestled between
trees in Wachtendonk, a tiny rural
village in West Germany, one would never
believe that this is a place where some of the
most promising young avant-garde German fashion is
being created. The designers Carsten and Lenka Rundholz
live here with their school-aged sons, Luis and Liam, and their
labrador Mocca. Since 1993, when they designed their first collection,
Carsten and Lenka have sought to combine family life and fashion production
under one roof. The couple enjoy a secluded life in the countryside, surrounded by
trees, dairy farms and flower nurseries. They find the panoramic view of the flat landscape
with its straight roads and regularly shaped fields soothing and inspiring at the same time. They insist
it is no longer necessary to live in capital cities to create exciting fashion. Modern technology and frequent
travel allow easy contact with the rest of the world and provide information about fashion trends. Luckily, the fashion
cities of Antwerp and Düsseldorf – where Rundholz have an elegant flagship store – are less than one hour's drive
away. Despite its secluded origins Rundholz fashion is international, customers all over the world appreciate the intellectual
and innovative design.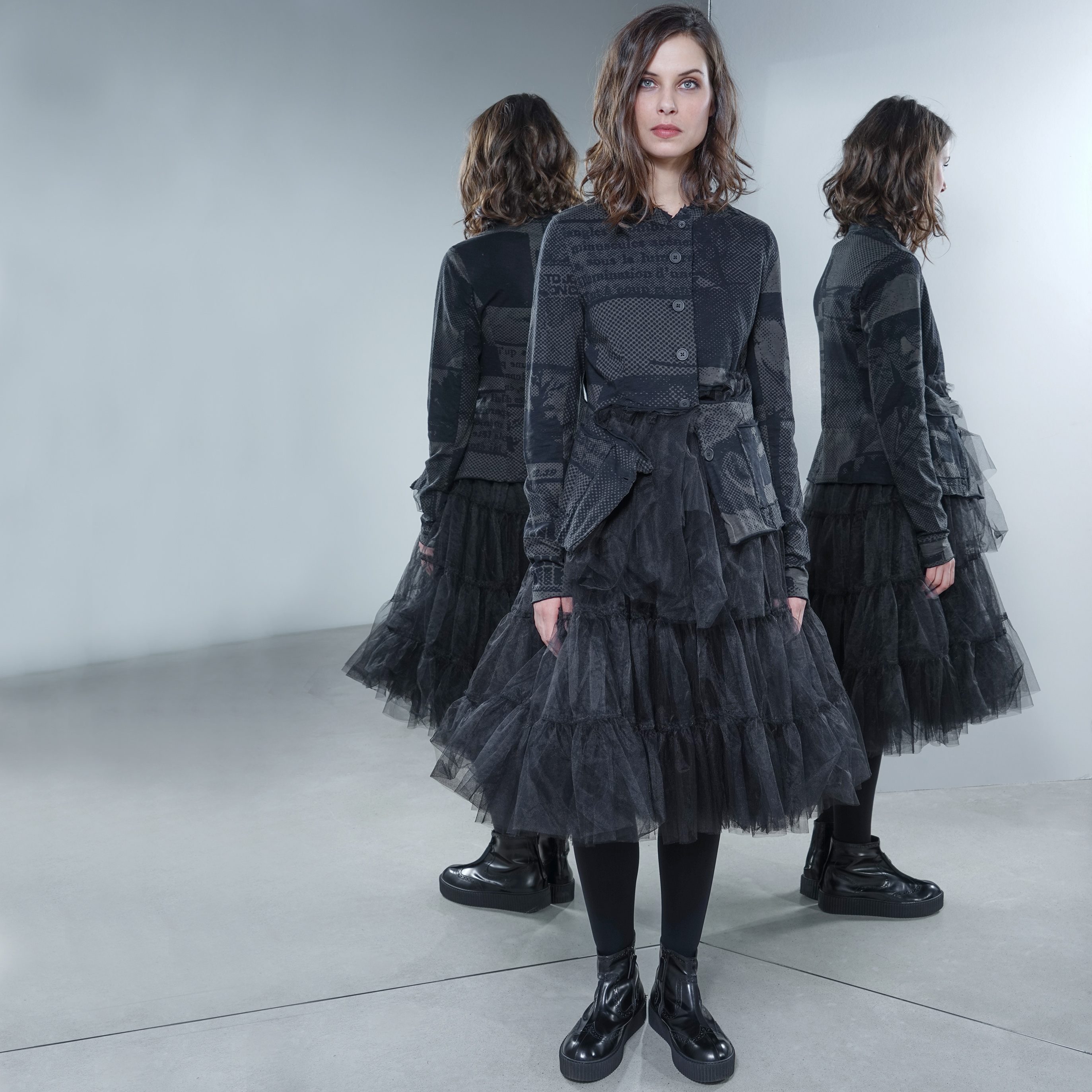 Production is spread over several countries, Germany and Italy deliver knitwear; jersey dresses come from Austria and fine Italian workshops deliver shoes and leather accessories. Japanese workshops provide dyeing and finishing processes.
Although they keep a keen eye on international design trends, Carsten and Lenka Rundholz emphasize that they do not follow mainstream fashion.
They create fashion for women who do not feel the pressure to conform to the latest fashions nor the need to ask anyone else for money or approval.
Their customers are usually women over 35 years of age, who are self-confident and independent with the courage to experiment with unusual clothes. The designs are made for women who appreciate creative avant-garde but also demand comfortable clothes suitable for all situations. Carsten and Lenka were surprised to find that this type of woman exists all over the world, independent of national politics, culture or religion. In order to meet the interests of this special and rather individualistic clientele, their marketing strategy ignores the broad commercial fashion market and targets their customers' interest in art and design.

For this reason Rundholz shows its collections twice a year in art galleries – at Espace Carole Brimaud, 118 rue Vieille du Temple, Paris – and at Pure Space, 601 West 26th Street, New York.
Rundholz clothing stand out for their sculptural quality, unconventional cut, whimsical details, unusual materials and unexpected sources of inspiration. Winter's jackets and long tailored frockcoats are pieced together from a variety of differently patterned fabrics joined by irregular and open seams. Fine merino sweaters are slashed and held together by transparent tulle. "We are not concerned with elegance in a traditional sense" says Carsten. He is searching for the bold and surprising.

Fabrics play a major role in the creative process of Rundholz clothing.

The designers use high quality fabric in natural fibres and prefer materials with little finish.
Slightly stiff materials are best for their three-dimensional designs. Fine cotton mixed with silk lends volume and shape to ample pleated and multi-layered skirts of surprisingly light weight. Whenever possible, the designers decide on the finish themselves. Being fascinated by the creative
potential of old textile techniques and new technologies, Carsten Rundholz is always searching for new and unusual technical ideas. It is not only that woollen jackets or sweaters are carefully shrunk in washing machines to create a warm fulled finish.
After having tracked down a company in Italy which still weave coarse horse blankets last
winter, Rundholz ordered jacquard patterned woollen fabrics there to turn into winter coats and jackets. Summer's ruffled skirts, blouses and dresses show heavy top stitching done on machines originally made for sewing coarse hemp sacks.

A second Rundholz collection named "Rundholz*Dip" consists of piece-dyed, hand-finished items. Rundholz works closely with Japanese craftsmen in Nagoya. They dye each item individually according to ancient traditions, using resist and reserve dyeing techniques. Rundholz enjoys working with the Japanese dyers because of their extraordinary skills and openness to creative experimentations.
Carsten and Lenka Rundholz are convinced their free-spirited approach to fashion has its roots in their earlier professions. Both come from creative fields which had little to do with fashion design or tailoring. Carsten was a graphic designer, and Lenka was a freelance window dresser when they met and started to design their own clothes. Precisely this lack of traditional tailoring skills gives them the freedom to develop unique and unusual ideas.
Today, of course, they are assisted by a staff of professional tailors and pattern makers who translate their ideas into producible designs. The steady success of their fashion concept is forcing them to buy a larger farmhouse nearby. Again this will serve as a simple family home with the small addition of a design centre and 15 employees, overseeing the production of 35,000 items per season sold to 280 shops all over the world.